Aged care transport plays an important part in ensuring that residents are provided with as much flexibility and freedom as possible – whether it is to attend a medical appointment, social event, day surgery or otherwise.
Aged care transport services are one of many crucial aged care services, helping to ensure that residents can maintain their independence and live life to the fullest.
Kew Gardens Transport Service
The Australian Aged Care Group Pty Ltd (AACG) is committed to providing residents with choice and greater flexibility in travelling to and from the facility with comprehensive community transport services. AACG believes in empowering our residents by increasing their ability to live as independently as possible, whilst still in our care.
Our Concierge Car Service at Kew Gardens Aged Care operates by appointment seven days a week in partnership with assisted travel provider, Call on Clare. Please note that the costs associated with this service are additional and a full price list is provided in the link below and is also available at Reception.
Kew Gardens Aged Care Assisted Travel Services provide support with the following benefits:
Hospital-trained, Division 1 Nurses
Caring, professional, experienced staff with outstanding references
Fully insured, comfortable, late-model cars
Ability to clarify and explain hospital procedures
Liaise with specialists and authorities
Careful planning and gathering of materials for each visit
Take notes and make reports for the resident and their family
Pick up, wait with and return resident safely home
Check food, drink, medicine and make recommendations for comfort
Companionship and transport for shopping or social outings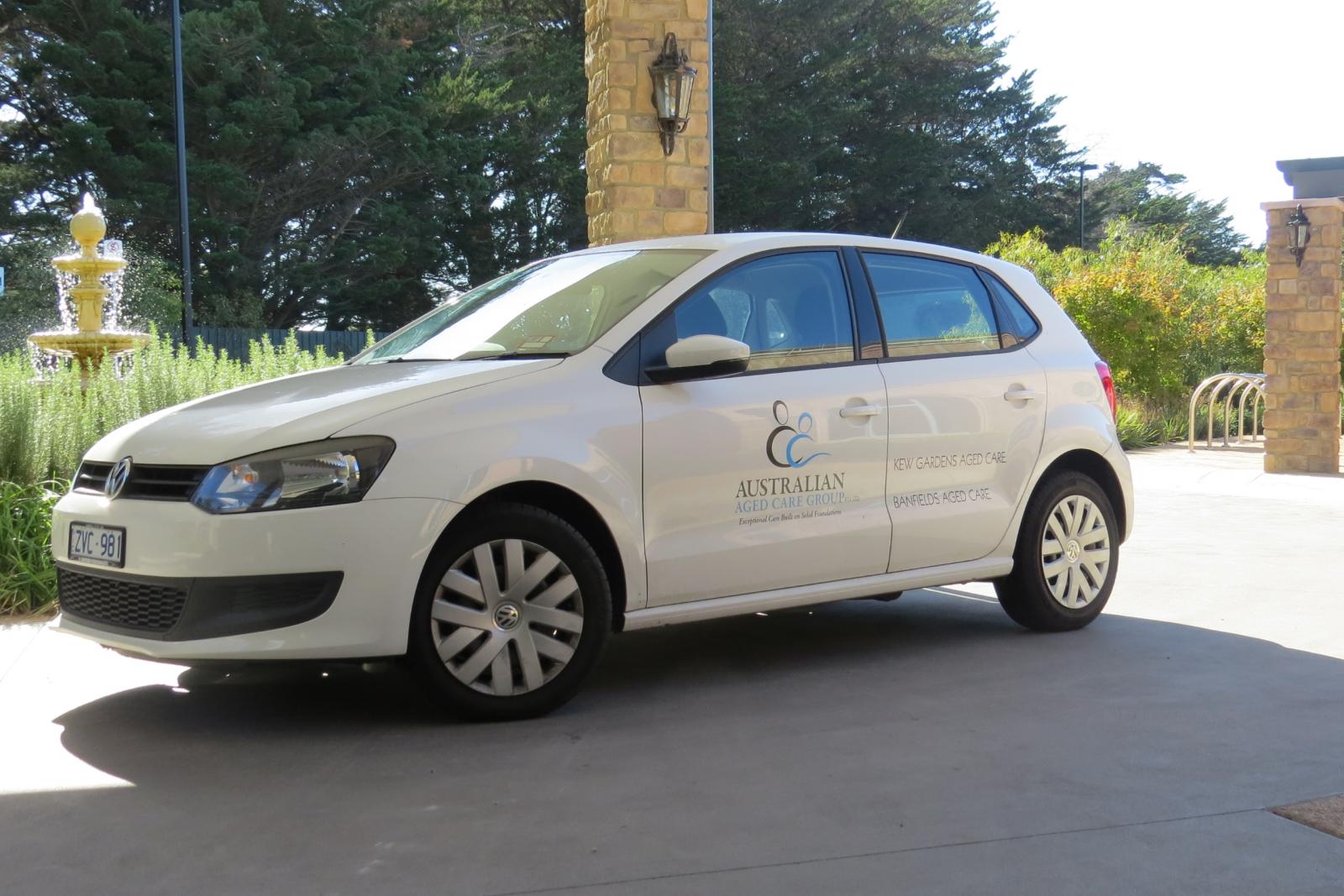 Transport Services that Make Your Life Easier
Residents benefit from having access to a qualified nurse to accompany them to and from medical appointments if family and friends aren't available. The service ensures residents always have a companion on hand to travel with them for whatever reason; even if it's simply to have a cappuccino and do some shopping in town!
In addition to transport, we will help residents get ready, whatever the occasion. Residents will be accompanied and supported through the journey – this will include everything from carrying belongings and getting in and out of the car, to helping with wheelchairs and any other mobility devices that the resident might require.
Our transport services ensure that no-one within the Kew Gardens family will need to utilise public transport or any other approach to care transport that is not appropriate.
Residents are also able to bring family members and loved ones along for the journey. Whether it is a spouse, friend or family member, they can accompany residents while using our concierge car service.
When You Can Utilise Our Aged Care Transport Services
Kew Gardens residents can make use of our assisted travel service in any situation where it is helpful. Some common reasons are:
To attend social events.
To get to and from doctors appointments, medical appointments, day surgery and more.
To go shopping or visit a local café.
To meet up with family (they are welcome to come along for the journey).
To facilitate disability and wheelchair friendly travel, with assistance provided throughout.
Organise Your Next Transport Service
To find out more about the Kew Gardens Aged Care Assisted Travel Service, please get in touch today! We would love to discuss how we can meet your travel needs and make your aged care experience as enjoyable as possible.
Please CLICK HERE to see costs for this service charged by our transport provider, Call on Clare.