"One day in September" simply wasn't enough for all the fun and excitement at Kew
Gardens Aged Care, as we celebrated the first month of Spring!

Woodland Historic Park – Living Legend Tour

A major highlight of the month was taking our own living legends on the "Living Legends"
bus tour.
The day featured meeting retired champion racehorses in a peaceful wooded setting just a
short drive north of Melbourne.
Our residents came face-to-nuzzle with purebred racers now living out their golden years at
the beautiful Woodland Historic Park. After a delectable high tea (and carrots for the
horses), our dedicated tour guided told us about the racing legacies of these four-legged
beauties.
There was plenty more to explore on the famous property, including the 1840s homestead
cabin, walking trails, and native bushland popular with wild kangaroos.

Daffodil Day

The Daffodil Day Appeal is Cancer Council's most iconic and much-loved fundraising
campaign. It's a chance for Australians to come together, donate and create change in the
lives of people impacted by cancer, by funding cancer research.
We celebrated Daffodil Day with an afternoon tea, featuring delicious, sunny-yellow
cupcakes washed down with freshly brewed coffee and tea.
After discussing the origins of Daffodil Day, some residents felt comfortable enough to
reminisce about their loved ones lost to cancer; paying special tribute to their memory.
What has been a sadness for many could be turned into a positive afternoon by giving
towards the continuous great work done by the Cancer Council.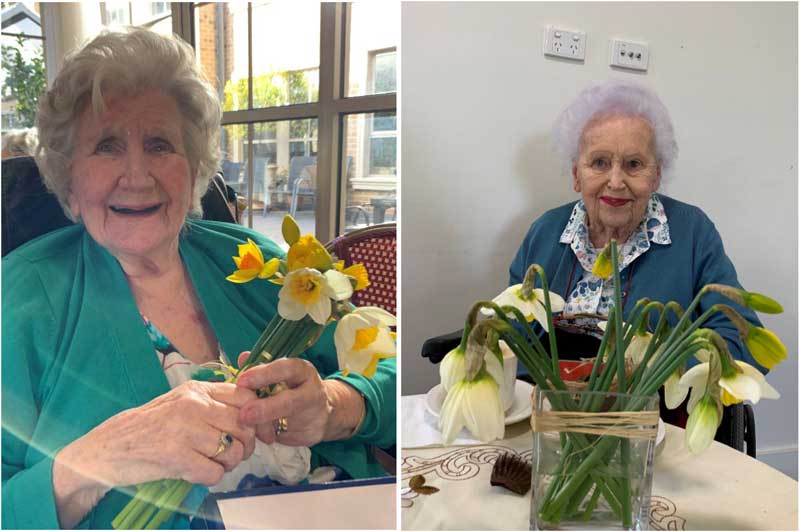 AFL Grand Final

Footy is a fierce interest for many of our residents at Kew Gardens. Leading up to what was
a steamroll victory for the Cats, footy remained a favourite talking point around the dining
room tables. Regardless for what team each resident barracked, all had the opportunity to
test their own footy skills with an inhouse handball competition. Like most footy
competitions, it was certainly hit and miss for many, however, all participants kicked a
winning goal when it came to having fun!


Out & About

Keeping our Spring calendar very busy were some more scenic bus tours; one to picturesque
Yarra Valley and another to The Old England Hotel in Heidelberg.
Our Yarra Valley visit gave us a perfect Spring morning with Mother Nature putting on a real
show for our residents. We delighted in the green splendour of our surrounds, the trees
decorated in sweet-smelling blossoms, as we meandered slowly down to the water's edge
to watch mother ducks with their newborn ducklings paddle around in the gentle


Springtime sunshine.

The Old England Hotel in Heidelberg is always a favourite outing of ours at Kew Gardens.
The menu never fails to disappoint, and we were spoilt with old school pub favourites, such
as chicken parmigiana and fish & chips. A hearty meal with some hearty laughs makes this
special luncheon always a favourite!


100 years of Stories – A Tea & Chat

Two of our centenarians, Ron Taft (102 years of age) and Joy Laurence (101 years of age,
102 next month) often enjoy sharing afternoon tea and memories together in our boutique,
onsite Café. Sharing life's journey is an important part of the Lifestyle programme at Kew
Gardens, as we know how important it is to tell our stories to one another, nurturing all the
friendships enjoyed between the residents, as well as our staff.

The Lifestyle Department at Kew Gardens Aged Care is dedicated to making sure our
residents enjoy life to the absolute fullest. Living with purpose is the core value and care
philosophy of our Lifestyle Team.
Purpose in life and living with a motivated attitude underpins our approach to aged care
and we believe this is fundamental to the creation of a sense of belonging and ultimate
wellbeing.