Kew Gardens Lifestyle Services
The Lifestyle team provide a vibrant and varied programme of activities to maintain and prolong confidence in one's physical abilities, mobility, strength and fitness. Our aim is to increase socialisation with others and enhance each person's self-esteem. Our team encourages creativity and fosters a sense of belonging, as well as maintaining a passion for life by exploring past interests.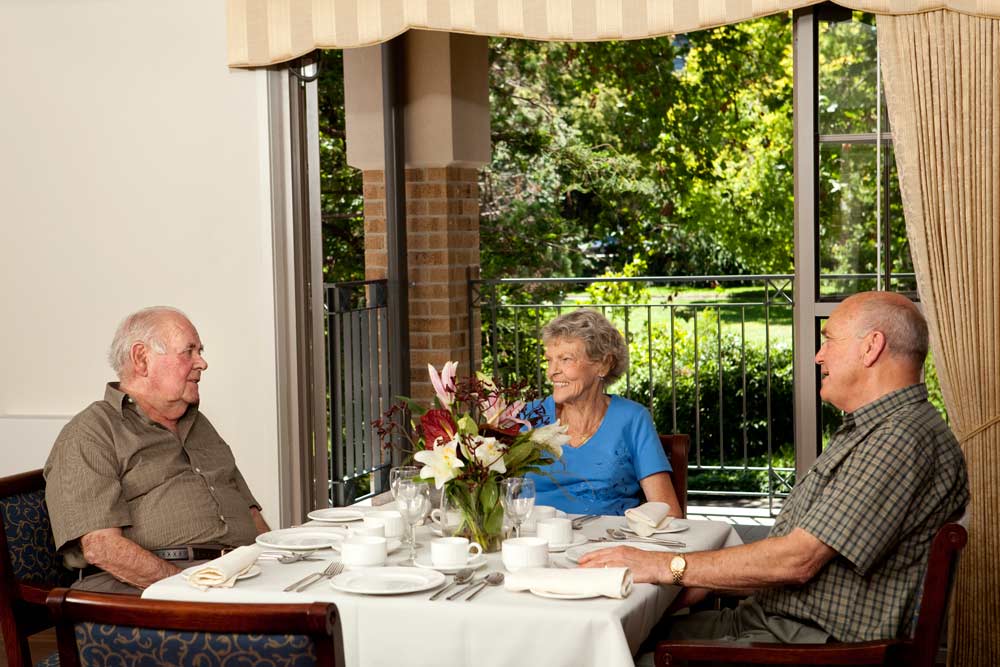 Catering
Our catering team provides a flexible approach when it comes to residents' special dietary needs, the residents of Kew Gardens are presented with an à la carte-style seasonal menu using the freshest local produce, where they are able to choose their meal and be served by the attentive team. We also offer a weekly Carvery Lunch offering select prime cuts of premium meats and an array of vegetables. Every dining experience is a culinary achievement – we endeavour to make each dish the ultimate home-cooked meal!
Cafe and Bar
Another special feature at Kew Gardens is the Alfresco Café and Bar located on the ground floor. which provide residents and their visitors with a lively social setting; seating is available either inside or in the adjacent courtyard. Melburnians take our coffee and wine very seriously and we stock only premium coffee beans and wines. We like our residents to feel our establishment is simply an extension of the High Street café culture.
Fine Dining
If you wish to indulge in a true fine dining experience, our chef offers some of the best dishes in Melbourne and is able to cater to your specific fine dining order.* Set in sophisticated, intimate surroundings, the Private Dining Room is available to residents seven days a week, if they wish to entertain guests or celebrate a special occasion. *additional charges may apply
BBQ
Barbecue facilities are available onsite offering the opportunity for friends and family to cook and prepare their own meals with their loved ones. Alternatively, the Catering team is available to assist on request, while you relax and enjoy the beauty of the courtyards.
Entertainment
The fully-equipped Cinema provides a "Gold Class" Standard experience! The cinema has regular sessions showing the latest releases, documentaries, movies of yesteryear, famous musicals, comedies & more. Drinks, nibbles, ice-creams and snacks are available, and family members are most welcome to join residents. Our cinema also boasts a Foxtel connection, as well as other multiple streaming services – a wonderful way to watch the AFL or NRL grand final, special celebrations, sports, musicals and more.
Private Dining room
The Alexandra Private Dining Room can be booked for special occasions and events. Our professional catering staff and chef can accommodate all your culinary requests.
Piano Lounge
Music is a therapy for the soul. Kew Gardens has a baby grand piano on residence ensuring the Piano Lounge is properly equipped for the many talented performers that frequent the facility. The lounge provides a relaxed, artistic environment for residents to embrace musical performance and creative expression.
Surroundings
Reception is located at a street-level allowing access through the main doors into the grand foyer, featuring an elegant chandelier and parquetry flooring. The strikingly ornate portico facilitates passenger pick up or drops off – the area is large, well lit and protected from the elements. All parking is undercover and located in a secure area that has its own private access to reception.
Access into the foyer is either from the main entrance or car park area the door is automated to open between the hours of 9 am – 5 pm weekdays and 9 am – 3 pm on weekends. At any other time, access to the building can only be gained via using the intercom system. Visiting hours, however, are not restricted. Four disabled parking bays are available. Our friendly Receptionist can assist with any enquiry and help to direct you, as necessary.
Courtyards
Our courtyards have been carefully designed to provide residents with a protected refuge for enjoying gentle sunlight on warmer days. Taking time out to enjoy nature's peace and quiet, our residents can replenish themselves in this calming environment. Raised garden beds are also available to those who find therapeutic benefit in the horticultural activity. Tending to flower and vegetable growth occurs all year round, giving residents a chance to participate in all seasons.
Shopping, eating and exploring in Kew
Kew is one of the oldest and most prestigious of Melbourne suburbs and boasts some of Melbourne's best restaurants. The popular Kew Junction shops, galleries and cafes are only a short walk from our front door. We provide regular visits to Kew Junction for our residents and also coordinate various trips throughout Melbourne to iconic locations such as the MCG, National Gallery of Victoria, Queen Victoria Market and the Royal Botanical Gardens. We are truly spoilt for choice!
Wellbeing
Wellbeing is at the heart of everything we do here at Kew Gardens. Our approach to nourishing the mind, body and soul is holistic and with respect to each resident's own spiritual and cultural beliefs and backgrounds.
Chapel
Kew Gardens has a beautiful, intimate, chapel accommodating all denominations of faith. The chapel is also available for private services, such as memorial and reflection ceremonies.
Hairdressing, Massage and Beauty Therapy
Kew Gardens offers a range of holistic therapies to enhance residents' wellbeing. The relaxing surrounds of the Beauty Therapy room will provide for all your beauty and relaxation requirements. Le Salon is a hairdressing parlour onsite with a professional stylist available by appointment.
Gymnasium and Physiotherapy
Kew Gardens provides a fully-equipped Gymnasium and private Physiotherapy room with all the latest equipment. Our physiotherapist can assess all residents and provide a tailor-made program to maintain and improve mobility. The physiotherapist can also guide and implement individual pain management programs where necessary.
Bus Service
Kew Gardens has its own dedicated bus with special features allowing for passengers in wheelchairs to participate in the variety of tours and events our Lifestyle team has on offer each month.