Planning ahead if you or a loved one has a life-limiting or life-threatening illness can be a difficult discussion to have. However, end-of-life care can greatly assist those who need optimal and curated care during the more trying times of their life.
What is an End of Life Care Plan?
An end of life care plan, often considered part of advance care planning, refers to a plan that considers your current and future health care within a palliative care setting. This care plan should consider a person's values, preferences and beliefs, and should be created with the help of loved ones and doctors, ensuring that they can make decisions about a person's care if that person is unable to.
Who Needs to Plan for End of Life Care?
Regardless of age, culture, background, beliefs or health, every Australian should consider their own advanced care plan. Advanced care plans are particularly important for individuals who have:
An advanced chronic condition
A memory related illness such as dementia, alzheimers or a related illness
A life limiting illness
End-of-life planning is especially important for those who are struggling to manage their symptoms and need additional support. For individuals who lose the ability to communicate or function, these types of plans are extremely important in ensuring comfort, accommodation and assurance of care during the end of their life.
Although these particular conditions or illnesses can push an individual to consider the care they receive at the end of their life, an end of life care plan can be for anyone.
The Importance of Planning for End of Life
End of life plans and advance care directives provide many benefits, with the organisational process assisting in helping a resident make arrangements that suit their specific needs, values and wants for the rest of their life.
Having an advanced care plan can greatly improve the personalised experience of a resident and improve their quality of life. Loved ones can also be assured that a resident is getting the care they want and deserve and can be involved in the process of creating this plan along with aged care services.
What is the Difference Between End of Life Care and Palliative Care?
End of life care and palliative care ensure the optimal care of a person who is nearing the end of their life. However, there are some minor differences between each type of care.
Palliative care involves the treatment of people with serious conditions that have no cure or reversal of the condition. The purpose of this care is to assure the resident and their loved ones that they will experience optimal quality of life before passing.
End-of-life care is a major component of palliative care that focuses on giving individuals the power to decide how they live the remainder of their lives. An advanced care plan gives an individual the ability to plan their legal and health care decisions to assure their family they are being cared for the way they want to be if they become unable to care for themselves.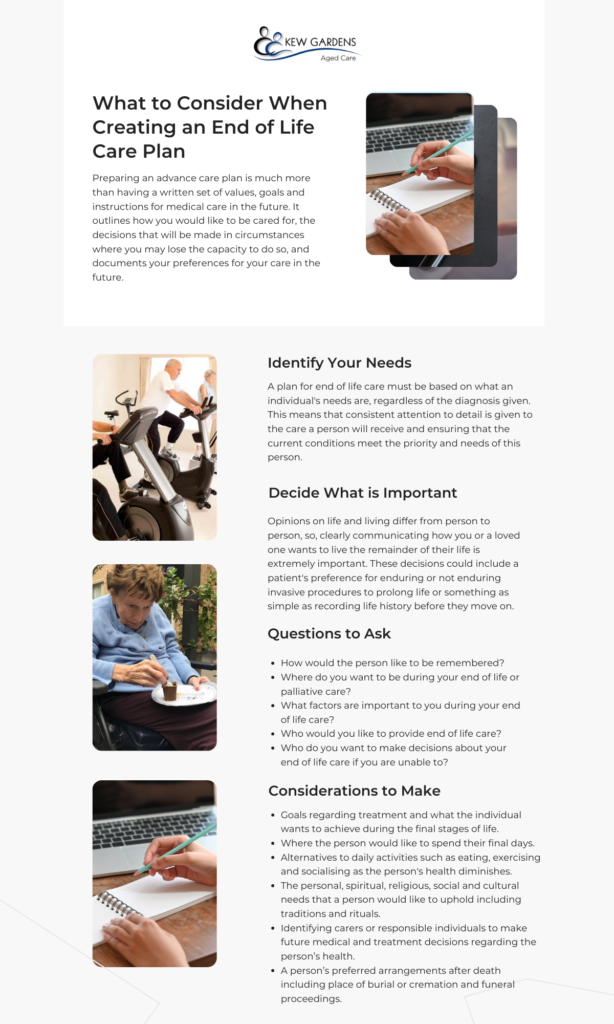 Preparing Your End of Life Care – Creating a Plan
Preparing an advance care plan is much more than having a written set of values, goals and instructions for medical care in the future. It outlines how you would like to be cared for, the decisions that will be made in circumstances where you may lose the capacity to do so, and documents your preferences for your care in the future.
The first step in this decision making process is to identify the needs of the person who is in need of care.
Identifying Your Needs
Advanced care plans vary greatly, some conditions that require care services may only need care for a few weeks while others may require it for months or years. Therefore, it is important to commence the process of planning early to ensure that an individual's wishes and arrangements can be made clear for as long as possible.
A plan for end of life care therefore must be based on what an individual's needs are, regardless of the diagnosis given. This means that consistent attention to detail is given to the care a person will receive and ensuring that the current conditions meet the priority and needs of this person. This may include employing an in-home carer or moving the person into a residential care facility.
Decide What is Important
Opinions on life and living differ from person to person, so, clearly communicating how you or a loved one wants to live the remainder of their life is extremely important. These decisions could include a resident's preference for enduring or not enduring invasive procedures to prolong life or something as simple as recording life history before they move on.
Some of the decisions you may have to make are:
Goals regarding treatment and what the individual wants to achieve during the final stages of life.
Where the person would like to spend their final days.
Alternatives to daily activities such as eating, exercising and socialising as the person's health diminishes.
Creating an open dialogue for the decisions that have to be made and involvement of specific parties (including loved ones) in the process.
The personal, spiritual, religious, social and cultural needs that a person would like to uphold including traditions and rituals.
Identifying carers or responsible individuals to make future medical and treatment decisions regarding the person's health.
A person's preferred arrangements after death including place of burial or cremation and funeral proceedings.
How the person would like to be remembered and how their belongings, possessions and finances will be distributed.
Questions to Ask and Considerations to Make
There are definitely questions that you should ask and considerations that you should make when thinking about how to make an advanced care plan for yourself or a loved one. For example:
How would the person like to be remembered?
Where do you want to be during your end of life or palliative care?
What factors are important to you during your end of life care?
Who would you like to provide end of life care?
Who do you want to make decisions about your end of life care if you are unable to?
Will I Need to Leave my Aged Care Home?
Finding the right support network for you, whether it is in an aged care home or in your own home is something you will have to discuss with your loved ones and health professionals.
Aged care homes usually offer this type of care and support in spades. However, you may need to vacate your aged care home if they are unable to offer the proper care and support that you need for your condition. All advanced care plans should be consulted with your doctor.
Preparing a Care Plan for End of Life in Aged Care
Aged care residences aim to make their residents feel as comfortable as possible while also feeling supported by the staff, loved ones and the facilities – this will be true based on an aged care homes' procedures in place, but should also be true when it comes to the culture of the residence. Collaborating on an end-of-life care plan and advance care planning with an aged care home will develop a set of instructions that will best support you, your loved ones, and staff to ensure you get the care you want and need.
Discussion points should be:
The management of symptoms and pain
How support can be provided for the spiritual and emotional side of an individual's life
The input of family members in care options, visitation and social support
The expectations of the staff, family members and patent while in the aged care facility
In most aged care facilities, nursing support or pain management staff will also be available to assist in trying times. Additionally, if extra support is needed by residents there are options to increase the care that is provided.
Preparing a Care Plan for In-Home Care
An integral part of a care plan is to assure all parties involved that the person in need of care is getting what they want and need. Therefore, there should always be an option for In-Home care for those who would like to live the remainder of their life in the comfort of their home. Aged care services may offer care that helps an individual stay in the comfort of their own home.
Similarly to aged care home services, in-home care services should be developed with a provider so you can outline the needs and expectations that need to be met. It should also address the involvement of a carer if they will be assisting. When considering an In-Home care plan, you should think about:
What can I do to improve daily living
What are the most important parts of my life
What kind of support do I need to feel safe
What brings me happiness and enjoyment
What makes life meaningful
To achieve these or similar goals, there are aged care services that can be provided such as household/domestic assistance, personal care, meal preparation, transport and even nursing or health care services.